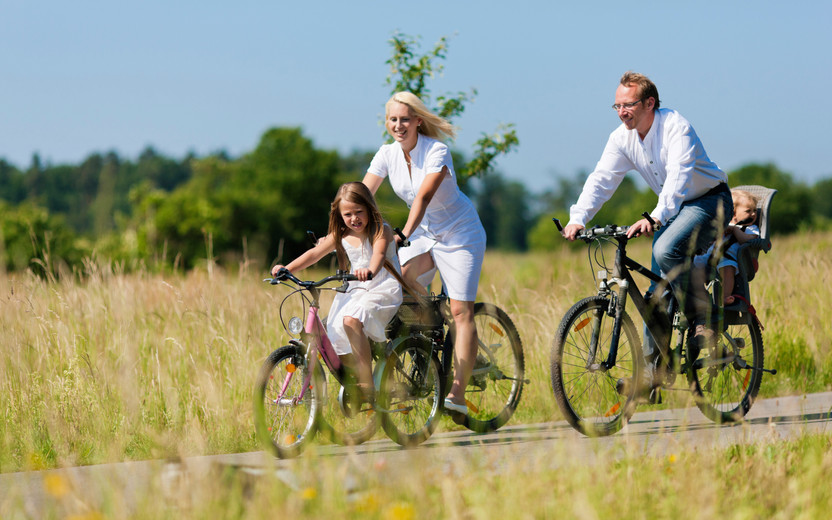 Would you like to beyond the hotel grounds? Borrow bike or segway!
In the immediate surroundings of the hotel are many interesting places, that are worth the visit. Here we introduce few of them, we will recommend other interesting trip at the hotel reception. 
Třebíč
The landmark of the city is the city tower near St. Martin church with the biggest clock dial in middle Europe. Třebíč has the 2nd biggest square in Czech republic. The most important monument is St. Prokop basilica, Jewish quarter and Jewish cementary, that are part of the cultural heritage UNESCO. Other monuments worth mentioning are the grounds of the Capuchin monastery with a church, wind-mill and St. Wenceslas and St. Ludmila orthodox temple…
Telč
The first written note abou the city comes from the end of 14th century. The core of the city can be considered extremely valuable monument reserve, so the city was inscribed on the UNESCO World Heritage List in 1992. Its dominant feature is a Renaissance chateau, a Jewish cemetery and a synagogue, and the Holidays in Telč music festival takes place here every year…
Pilgrimage Church of St. Jan Nepomucký
The church was built between 1719 and 1722. The construction of the church is based on the geometry of a circle, repeating the number five many times as a reference to the five stars of John of Nepomuk, which, according to legend, appeared above the body of a dead saint. The architect of the work is J. B. Santini - thanks to its uniqueness, the church was included in the UNESCO World Heritage List…
Dalešice dam
The Dalešice dam is a pumped-storage water reservoir located on the Jihlava River. It was built between 1970 and 1978 and is one of the largest in Moravia - 22 km long. The main purpose is a source of technological water for the Dukovany Nuclear Power Plant. The reservoir also has recreational use, in its vicinity there is a large number of private cottages and several camps, such as "Beach Hartvíkovice". Since 2012, there has also been a sightseeing cruise on the steamer "Horácko"…
Mohelno Serpentine Steppe
The Mohelno Serpentine Steppe national nature reserve, which is one of the most valuable localities in the Czech Republic, but also in Europe, rises around meanders the Jihlava River on an area of ​​approximately 53 ha. The area in on a serpentine base, where, thanks to specific conditions, individual types of steppe vegetation of plants and animals grow.
Jaroměřice nad Rokytnou
The ladmark of the town is a baroque chateau with the adjacent church of St. Marquette. The castle also includes a park in the French-English style with rich sculptural decoration. The chateau has a rich musical and cultural history, music festivals are often held in the park to this day, and the annual Petr Dvorský International Music Festival continues the tradition.
Babylon Observatory
The stepped stone building on Zelený kopec (491 m above sea level) near the Dalešice dam is the second oldest observation tower in the Czech Republic. It was built in 1831 by Count Haugwitz for the needs of measuring the so-called stable cadastre. It is 40 m high and 105 original oak stairs lead to the top, with good visibility you can see the peaks of the Alps or the White Carpathians…